Experience one of the most prime trips to Bali's iconic island with us! Coming to you with a bucket-list-worthy itinerary to give your holiday an otherworldly feel, one that isn't easy to replicate. Quicksilver is undoubtedly a remarkable experience to include in your tropical journey.
ACTIVITY INCLUDES
Semi-submersible vessel
Ocean Water Treatment
Banana Boat
Waterslide
Kids Pool
Snorkeling
Marine Park
"The Jewel of Bali" As the only cruise to the picturesque island of Nusa Penida, Quicksilver proudly transfers passengers daily in an innovative sleek aluminum vessel. Developed in Australia on the Great Barrier Reef, the 37-Meter Water Piercer Catamaran, Quicksilver is world renowned for its high standard of passenger comfort and safety. Instead of riding over the top waves, the twin hulls actually pierce the water below the surface, thus enabling a much smoother ride in all sea and weather conditions. While relaxing in the luxury air conditioned cabin, the 3rd level deck is open for sunbathing and also to feel the sea breeze.
Quicksilver dual level modern pontoon floating on the crystal clear water at Toyapakeh Bay means 'SALTY WATER' where there lay a beautiful marine park below and abundant of various tropical coral fish swimming underwater. Facilitate with the underwater observatory, watching closely these magnificent underwater creatures surrounding splendid coral clusters and rich kinds of tropical fish. Various activities alongside the pontoon such as snorkeling, viewing the spectacular underwater life from a Semi Submarine vessel or The Underwater Observatory, Waterslide, Ocean Water Treatment and other water sports are available upon request. Our qualified multilingual crew will be happy to serve you in every activity.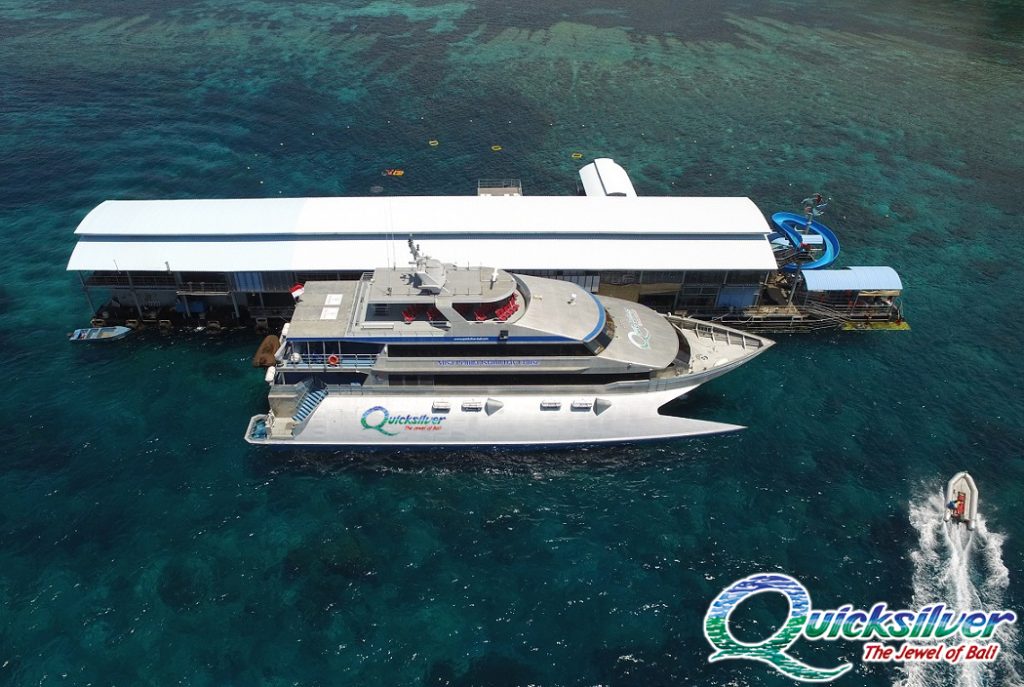 NUSA PENIDA ISLAND
Located between Bali and Lombok Island. Nusa Penida is the biggest Island compared to Lembongan and Ceningan Island The beautiful island formerly acquired a somewhat eerie reputation as it was once the place of banishment for criminal's, undesirable and political agitators from the Kingdom of Klungkung.
SNORKELING
Imagine …watching the beautiful coral garden and reef in the crystal clear water teeming with marine life wander around you. They are just simply magnificent and would surely take your breath away. Due to the occasionally strong current condition in the snorkeling area, good swimming skills are advisable. Life jacket and snorkeling equipment are available on the pontoon. Our instructors are available to assist you to wear them properly in order for you to enjoy the best snorkeling experience.
BANANA BOAT
The banana boat is an inflated tube that carries passengers and it is towed by a boat while riders hold on to the rope and try not to fall off – which eventually happens. Therefore passengers are required to wear life jackets and always be guided by our instructors. The ride is available on the pontoon shortly after arrival and will be at your service all day.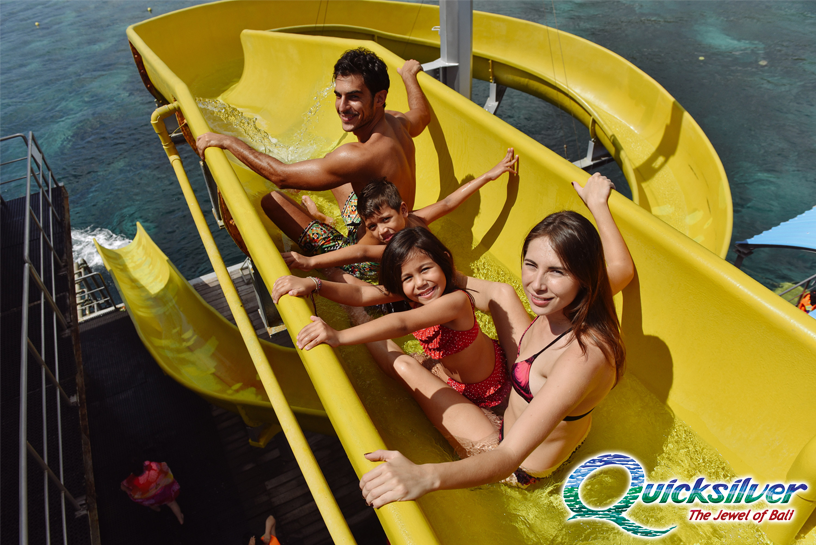 WATER SLIDE
A water slide also referred to as flume, water chute or hydro slide is a type of slide designed for outdoor recreational use at water parks. Come and join the excitement of our 60 meter long and curvy water slide that takes you right down into the sea. It is simply an unforgettable splash!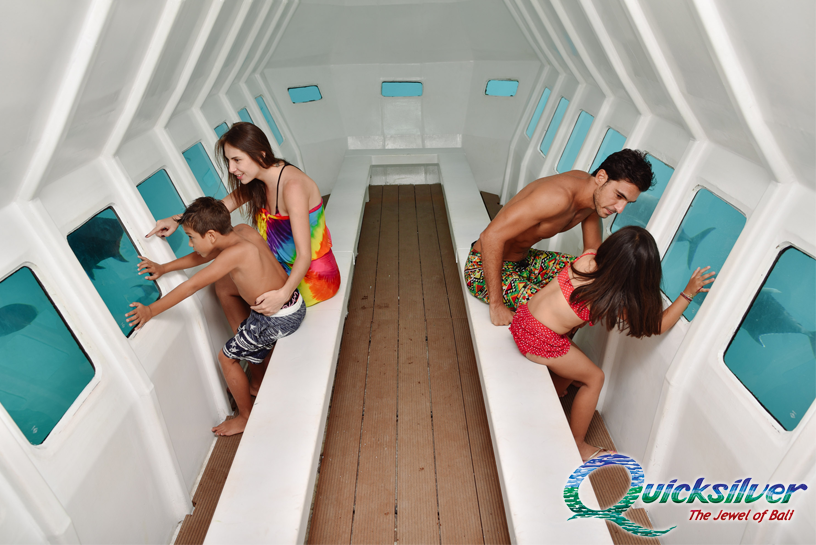 SEMI SUBMARINE
Explore the underwater of Nusa Penida Island. You shall be amazed by the collection of beautiful corals and fishes that swim along the subsea. Without the need to even get wet, you will enjoy Nusa Penida Island underwater life with awe. The trip takes approximately 20 minutes and no booking is necessary, the subsea carries 34 passengers on each trip. We have 2 subsea.
OCEAN WATER TREATMENT
The ocean water treatment has a calming and sedative effect using the natural elements of seawater. It provides essential minerals to cleanse and rejuvenate the body, in association with treatments to relax, relieve tension, encourage detox and rejuvenation.
UNDERWATER OBSERVATORY
The lower level of the pontoon provides a place to view and observe the beautiful marine life around the pontoon. Through the windows you may see various colorful fish swimming around, corals swaying affected by the ocean current of Nusa Penida Island. It is truly mind soothing, a perfect way to enjoy your holiday in Bali.
TOYAPAKEH VILLAGE TOUR
A transfer boat will take you to the beach for a guided tour of the village. Your guide will take you to see seaweed farming ,traditional hand weaving, village housing and the highlight is traditional cockfighting . For sport lovers Beach Volleyball is able to play on .It will take approximately 45 minutes of your time before ending with free mineral water . We ask you not to take any shells or coral from the beach. In respect of the village customs please wear a T-shirt while in the village and Balinese sarong will be available while entering the temple. Shoes are recommended.
OPTIONAL ACTIVITIES SCUBA DIVING
Appealing… it"s the best word to describe how Diving is the best way to view the magnificent unique underwater marine park while swimming in the middle of abundant fish. A Journey to a colorful world beneath where spread numerous kinds of hard and soft coral waiting to be explored. Butterfly fish, Red squirrel, Cornflower sergeant, Blue puller, Five-banded damselfish, and coral rabbitfish can be found in the Toyapakeh waters. Operated by PT. Nusa Penida Dive Center, one of Quicksilver affiliated firms, offers a dive course/tour for everyone, no certificate needed. Dive Safaris around Bali and Nusa Penida Island is available Upon special requests. JET SKI Pure excitement will come to you while Jet skiing with watercraft. try this wet and fun water sport while our guide will accompany you during the activity.
FISH FEEDING
Feeding fish 5 to 7 meters deep below the sea of Nusa Penida, guided by professional divers and equipment. It is going to be safe, fun and easy for beginners.