Stay in Bali is everyone's choice, whether for work or traveling. Bali is a city that is rich in charm, so many people want to live in Bali. The island of Bali also has several areas that are very worth visiting, complete with the characteristics of each region.
What are the Best Places to Stay in Bali for Families List?
Regional advantages that exist in Bali make tourists come and go. Both tourists who visit alone or with a partner, it is not uncommon for tourists to visit with their families. If you are part of a group with family, then choosing accommodation is the right key for a pleasant stay experience.
So that you don't choose the wrong place to stay with your family, then you have to pay attention to a good location to stay. The location of the right place to stay for your family is as follows.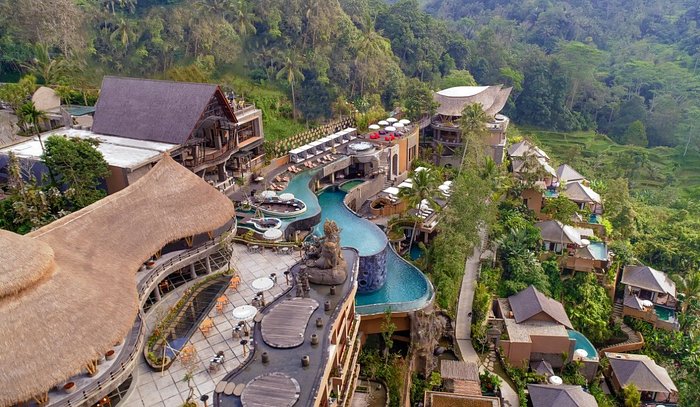 The Kayon Resort Ubud Bali
The Kayon Resort Ubud Bali is located in Banjar Kepitu, Kenderan, Tegallalang District, Gianyar Regency, Bali. The Kayon Resort Ubud Bali carries a traditional Balinese style and offers stunning views. Therefore, this one resort can be used as a family choice.
The Kayon is a family friendly resort that has the best parking space. In addition, this type of resort has blended with nature, so it can make your family more comfortable. Resort Ubud also provides valet service for the car you have.
Another offer from the Kayon resort on this one is several packages outside the inn that can be enjoyed as a medium of relaxation. One of the packages that you can enjoy is the afternoon tea package with your partner or with your family. Get the best price by booking early before you travel to Bali.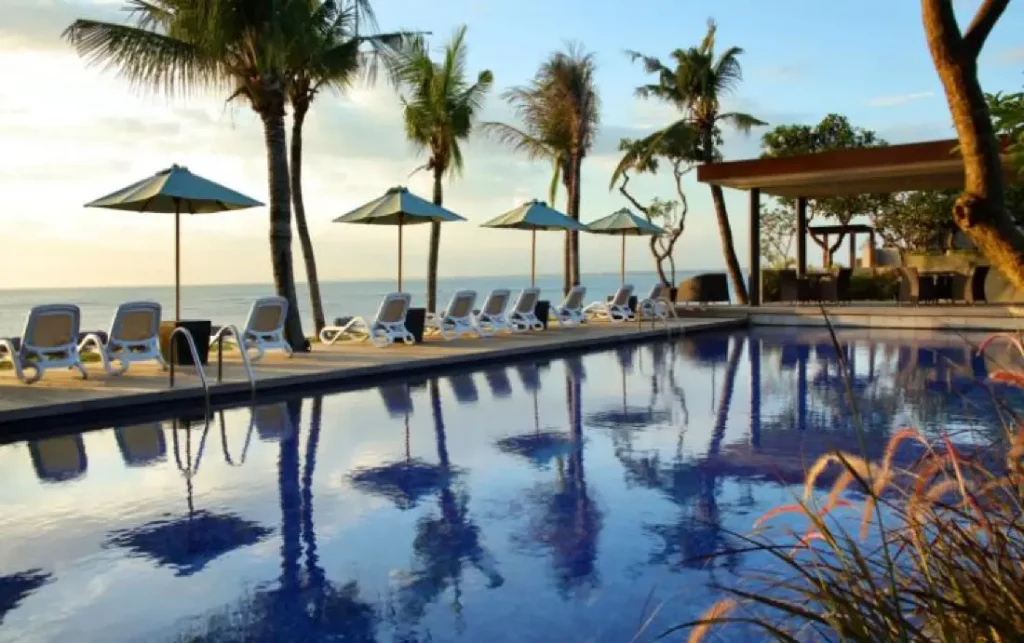 The Anvaya Beach Resort Bali
The Anvaya beach resort is located on Jalan Kartika plaza, Badung district, Kuta, Bali. Enter into one of the recommended resorts in Bali for families that you can choose. Resort the anvaya beach, is a resort that has a price per room of around 1 million rupiah.
The price is a commensurate price considering you want to give a different experience to the family. There is also a private beach that can be a place for children to play and make you have the best experience. Apart from that, we also provide babysitting and also a play club for children.
The Anvaya beach resort Bali is a resort that has the best management and is very friendly to children. You can make a booking with the best price offer, complete with complete facilities.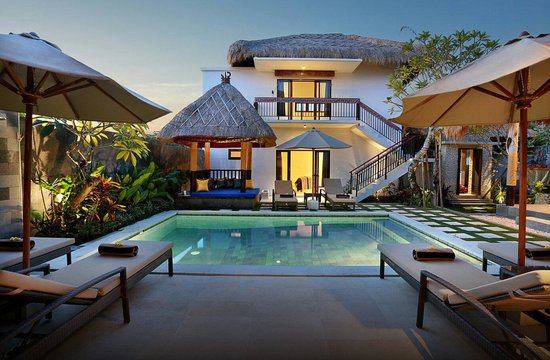 Balangan Beach Villa
The next Best Places to stay in Bali for families is Balangan beach villa, located right on Jl. Balangan Beach, Jimbaran, Kuta, Badung Regency, Bali. Balangan beach villa is a four-star resort, but it doesn't make the room rates very expensive.
At this inn you can choose the type of room according to your taste. Several guests who have visited have also recommended that Balangan beach Villa be the most suitable place for family lodging. Because, there are lots of room options available for 12 people.
Not only are there many room options, because the location of this inn is very strategic. Strategically here judged by the proximity of the inn from several tourist destinations, Balangan beach is one of the tourist destinations that is very close to the inn.
What are the Best Places in Bali to Stay?
Best Places in Bali to stay is easy to find if you choose an area that suits your taste. A good lodging place certainly has very satisfying service, so it is suitable for many people who want to stay.
Bali Dynasty Resort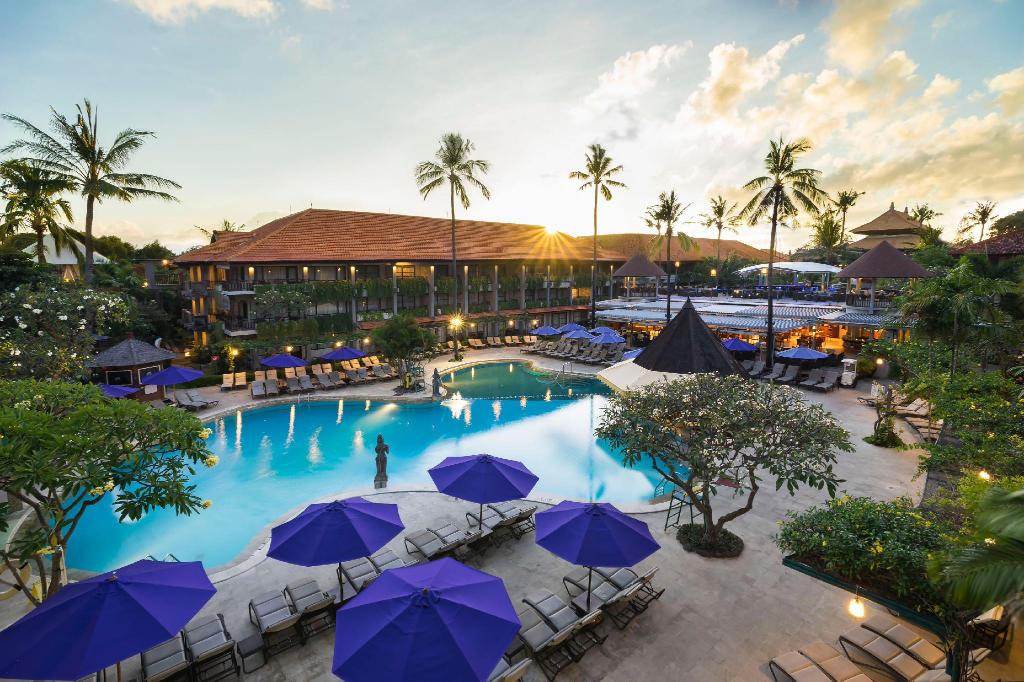 Bali dynasty resort is the best resort recommendation in Bali for your family. The prices are quite affordable offered by this 5 star resort. The price range starts from only IDR 500,000, you have got a very commensurate experience staying at a resort.
The Bali dynasty resort accommodation provides free breakfast to guests. In addition, there are also parking facilities and a bicycle rental place that can be used to get around Kuta. There are also various other types of facilities, which you can access such as a fitness center.
There is also a fitness center at the Bali dynasty resort, which will make your muscles relax. You can also visit the spa in the resort, making your trip more comfortable. In addition, there are also various types of children's club facilities that can be a place for your child to socialize with their peers.
Bali Mandira Beach Resort and Spa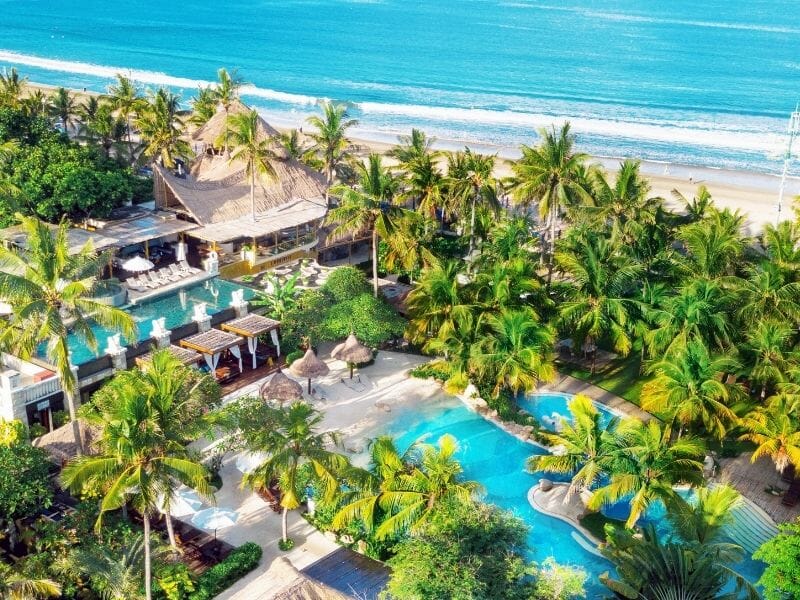 Bali mandira beach resort and spa is located on Jl. Padma No.2, Legian, Kuta, Badung Regency, Bali 80361. As a visitor, you can visit the Bali Mandira inn. Bali Mandira beach accommodations have very affordable prices.
Per night you can spend around 800,000 only, with that price, you can get some top class facilities. In addition, you can also get access to a private beach. It should be noted that there are different factors from other research.
The distinguishing factor from other resorts is the view and the private beach, complete with a swimming pool which is very safe for children. You can rent this inn at a price of around 1.5 million, also get attractive promos if you book early.
What are the Best Resorts in Bali?
The best resorts are resorts that are comfortable and meet expectations. There are so many lodging places in Bali, you just have to choose it if you intend to stay there. These accommodations have varying prices, depending on the facilities and completeness of the room you want.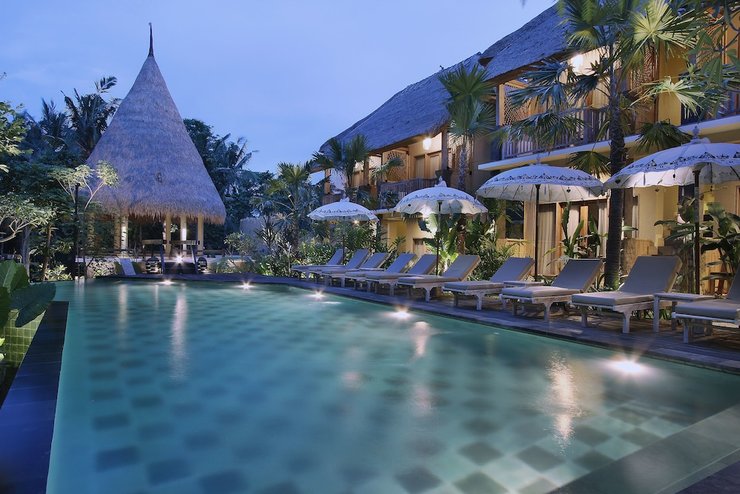 The Alena Resort
The first resort recommendation is the alena resort, this resort adheres to 4 stars and has a price range starting from 500,000 per night. Making it a very suitable lodging option for you and your family, because in addition to a very strategic location, it is also equipped with the best service.
The best service is evidenced by the friendliness of the staff which is certainly not something you need to ask. Lots of reviews that contain the service of the staff who are very friendly. The maximum service shown by the alena resort pampers the guests so that guests are more comfortable to linger at the resort.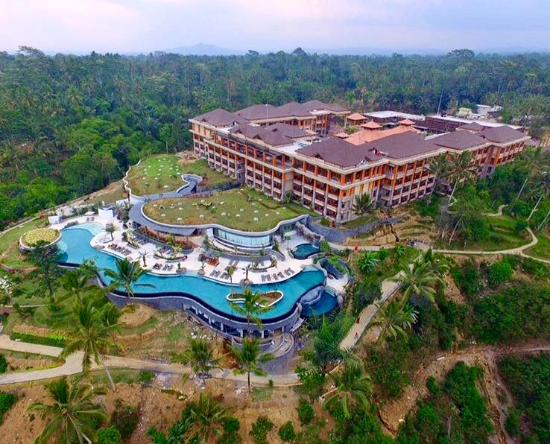 Padma Resort Ubud
Padma Resort Ubud is a very famous family accommodation recommendation. This five-star and famous resort has a fairly expensive price range, because it starts from 1.6 million per room. The rooms provided are also very dynamic, because they depend on the date and choice of the room you choose later.
With this relatively high cost, you can enjoy various types of top-class facilities that may not be found in other lodging facilities. Top-class facilities that you can get are bicycle rentals, places to ride horses and horses, and places to play golf.
This inn is very effective for children, because inside the inn there is a children's pool and also a children's club. This resort can also be used as a place for children to play while parents maximize the existing facilities.
What are the Specialties of Luxury Beach Resort Bali?
Luxury beach resorts in Bali have several special features that are chosen by the community. Resort luxury is a resort owned by the island of the Gods, the island of a thousand temples illustrates how culture and art in Bali occupy a very vital position.
Have Traditional Values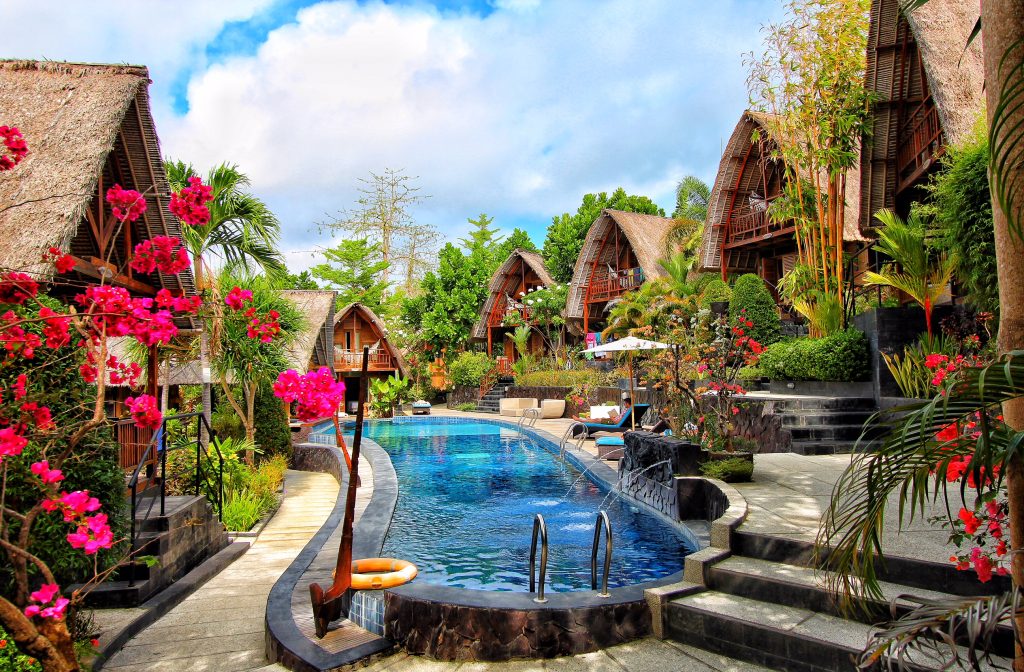 The island of the gods has traditional values ​​that are very thick and very well maintained in the midst of society. Strong traditional values ​​make Bali continue to be one of the dream tourist destinations in Indonesia.
Traditional values ​​owned by Bali can be found anywhere. Because, in every tourist spot or public place, there will be Balinese ornaments that are very characteristic, especially in the restaurant. Bali makes some of its visitors miss this place so much that they don't get bored to visit it.
You can find traditional Balinese values ​​in their best appearance only at luxury resorts. This resort is truly luxuriously designed with a thick inside and outside impression. The typical Balinese luxury displayed through the resort makes it a luxury that is completely different from other hotels.
Guests will be herded into all the high-end art galleries when visiting the luxury Beach Resort Bali. Resort luxury offers luxury that is thickly designed on the outside and inside. Certainly completely different from other luxury hotels that have been in Bali.
Best Luxury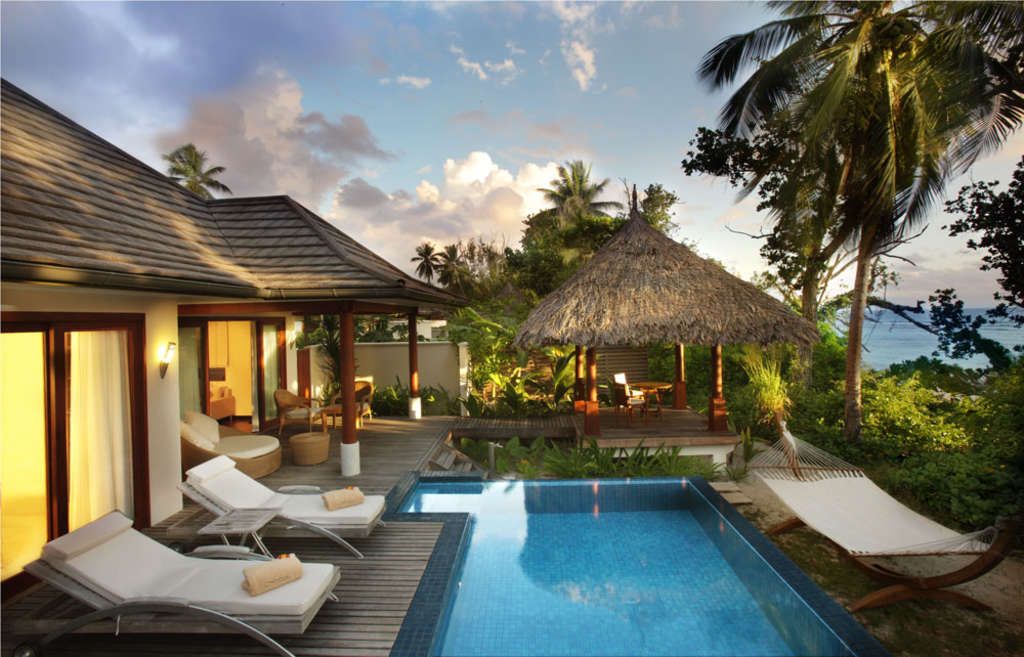 The luxury that is displayed by luxury is really able to bring the traditional Balinese atmosphere to a special level. When guests enter, they are greeted with a kulkul-shaped gate which is usually found in traditional Balinese villages, as sounds to announce important events.
When you step on the lobby, then you can't miss a moment of awe by looking up at the ceiling for a moment. On the ceiling at this resort, there is a chandelier in the shape of a lotus flower. The lotus flower in Bali is a symbol of knowledge and spirituality for the Balinese people.
There are also two large Balinese paintings, the paintings look so beautiful hanging on one of the walls of the hotel lobby. This luxurious work of art is Nyoman Gunarsa's painting. You can find paintings of Nyoman Gunarsa in several parts of hotels in Bali.
Especially for the paintings displayed in the guest rooms, there are also works by great painters such as Sunaryo. All kinds of luxury offered by Bali cannot be separated from its spiritual atmosphere. Painting paintings and some of the services contained in it are also very satisfying.
What are the characteristics of Quiet Places to Stay in Bali?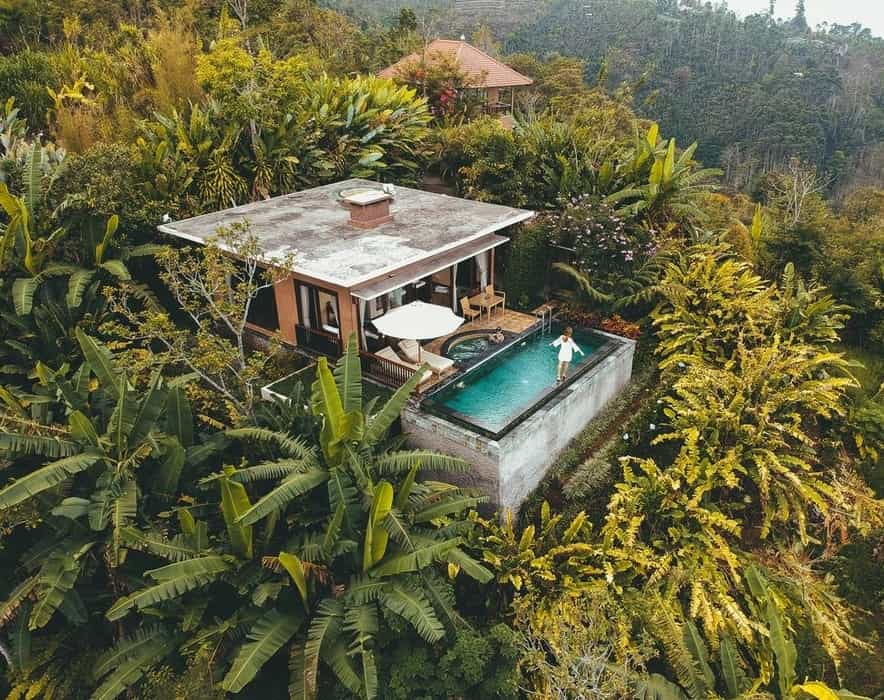 Quiet places to stay in Bali is certainly one of the safe and comfortable places to live. Therefore, as an innkeeper you must find a very comfortable lodging place if you want to just visit. However, you must find a place to live that is most comfortable and close to work if you want to settle in Bali.
There are many comfortable places in Bali to live in, you can visit some of the nearest luxury or rented hotels. Bali is one area that has its own charm so you should enjoy it. Of course, all kinds of charms provided by Bali will not disappoint you as a visitor.
A Place that Spoils the Eyes
The most comfortable place in Bali must be a place that is very pleasing to the eye. One of these places is a luxury resort, a resort that has wall decorations along the hotel and is so beautiful. The decoration is complete with beautiful floral carvings, especially the lotus flower which is a typical Balinese style.
Patterns of lotus flowers spread to the ceiling and door knobs. Various types of small touches are also found in this building, very meaningful because they are presented through a welcome statue made of flat coins. Flat coins are Balinese perforated coins, usually placed at the reception desk.
Best Accommodation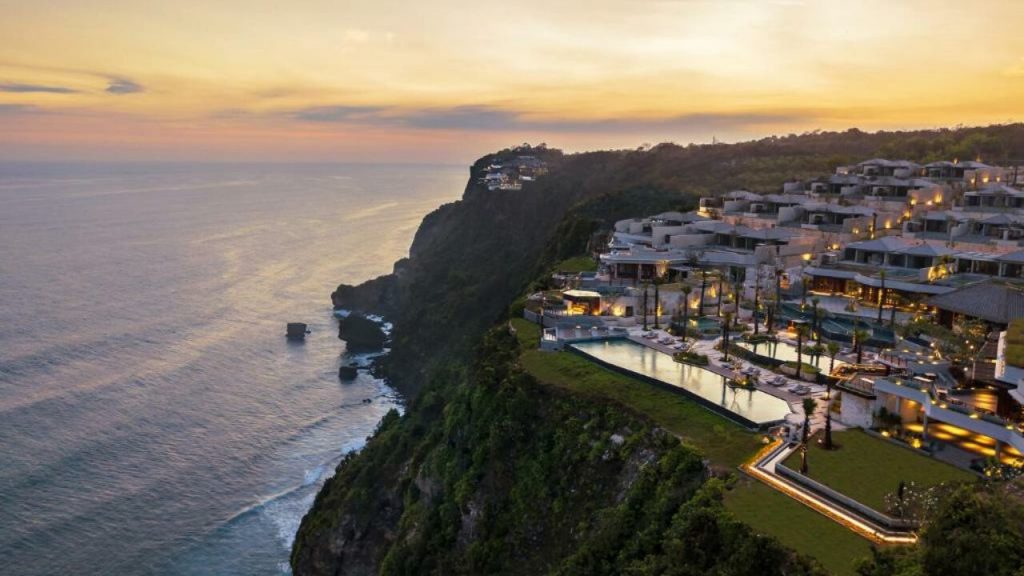 The most comfortable places also provide the best accommodation such as room service or tourist destinations. We provide the most standard type of guest rooms equipped with balconies to work areas. This most standard type of guest room is also equipped with a private relaxing area.
Some of the rooms provided by Resorts in Bali can be ordered directly when it comes to the place. If you don't want to be bothered, then you can book the desired room through trusted hotel booking sites and other booking sites.
Luxury beach resort Bali is a hotel with a resort concept that provides 16 units of villas in Balinese traditional style. The style is very distinctive with thatched roof with wood material. The door to the room is in the form of a gate that uses wood.
If you are at a luxury resort, then you can feel the traditional feel that is perfected by the modern facilities that are presented in each villa. The modern facilities include a private swimming pool and toiletries.
The facilities in the hotel are also astonishingly luxurious, because they have a swimming pool like real beach sand with a refreshing waterfall. Near the pool there is also a bar, in addition, guests can relax in the fitness center. You also don't have to bother looking for a hunger booster, because the quietest and most comfortable place in Bali provides it.