There are so many activities in Bali, because Bali offers the most different destinations in Indonesia. Bali has a natural landscape that is so beautiful and enchanting, complemented by pictures of 8 nightlife islands of the gods that are no less captivating.
Bali also has the culture and traditions of the community that are preserved. You will also find a modern and contemporary touch in the form of art or architecture when you are in Bali.
What are the 9 Most Adventurous Activities in Bali for a thrilling vacation?
There are so many activities that can pump up your adrenaline and you can find it when you are in Bali. You can feel adrenaline pumping activities because enjoying the other side of Bali tourism is more fun. Some of the list of activities you can do with your family or alone.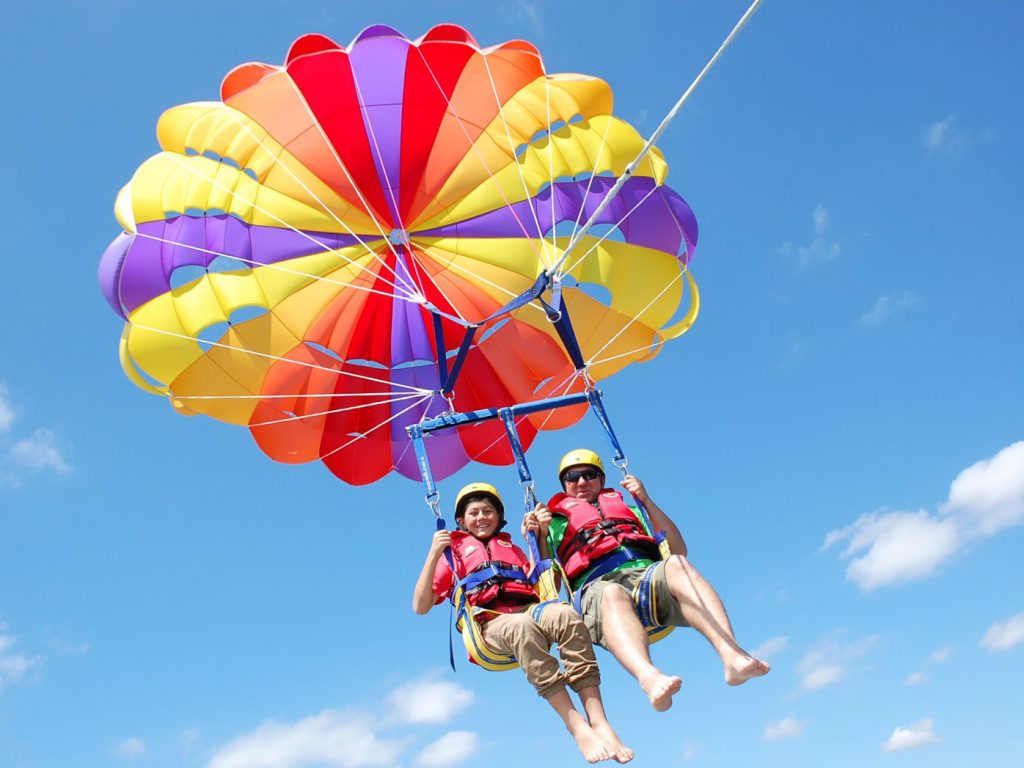 1. You can feel the thrilling sensation below and above the water surface by riding the Jet Ski, Parasailing, and Banana Boat.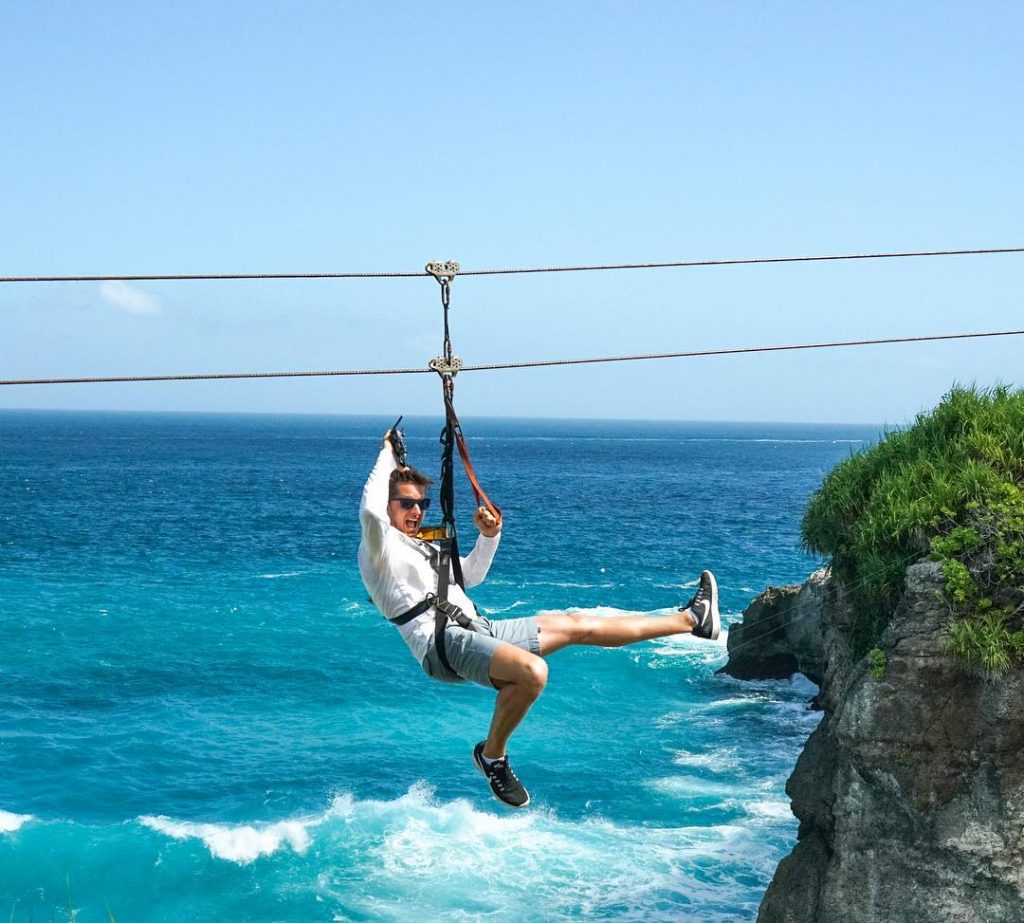 2. You can also slide between two cliffs, namely above the waves by using a rope. Launch across the ocean with a rope you can do at the Abyss Zipline at Ceningan Island Resort. That way, you can enjoy views of the cliffs and big waves while sliding on a rope.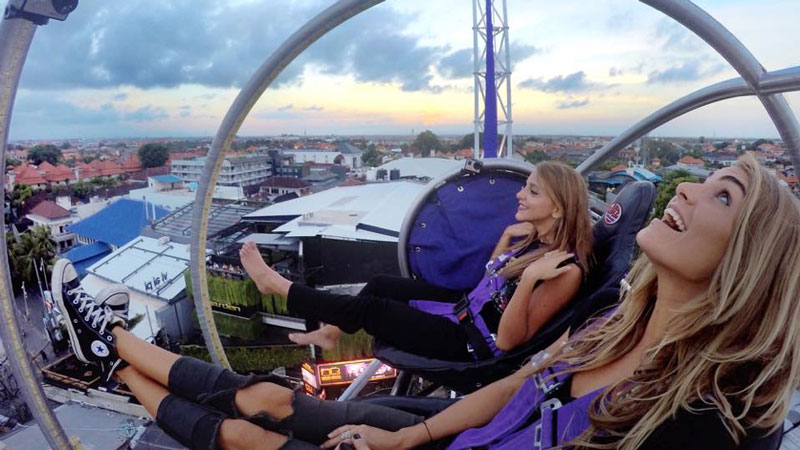 3. Fun experience You can feel in Bali if you feel the 5GX Reverse Bungy ride, Kuta. This activity will make you have fun while making your palms sweat. Because, you will be thrown into the sky with a giant slingshot, the speed is up to hundreds of km per hour. You can ride this at the right time, so you can see the famous beautiful sunset in Bali.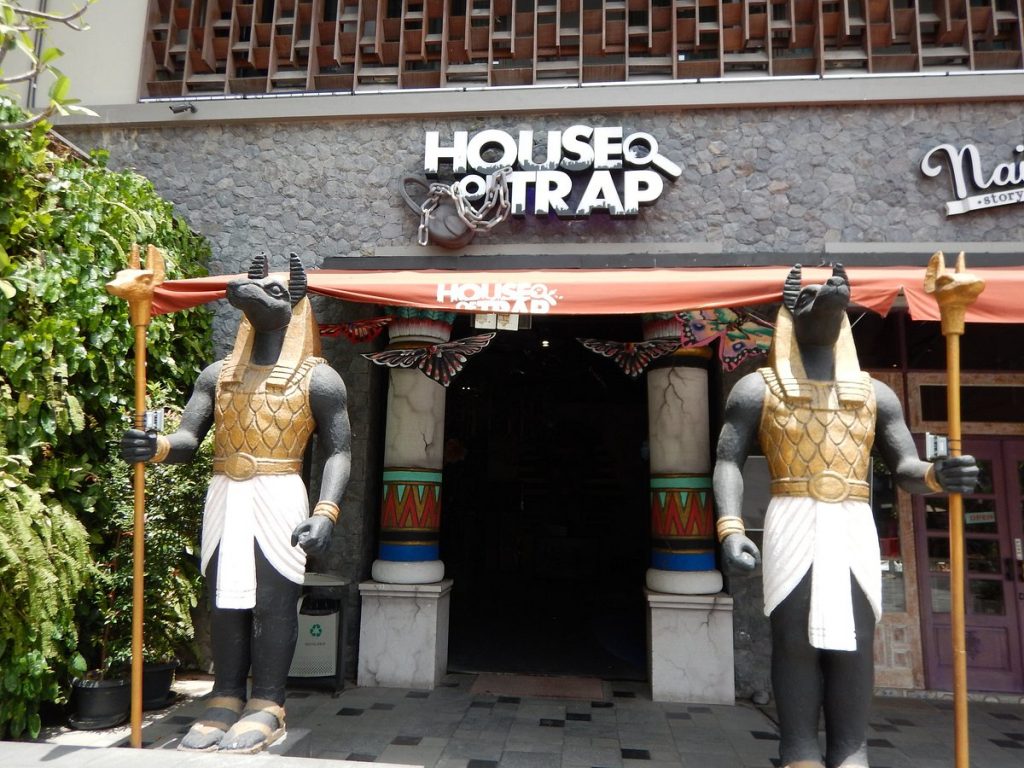 4. Another thrilling activity is solving mysteries in 45 minutes. You can test your physical toughness by tracking, but you have to test your intelligence by playing crosswords. In Bali, you can test your physical and intelligence by playing in the House of trap.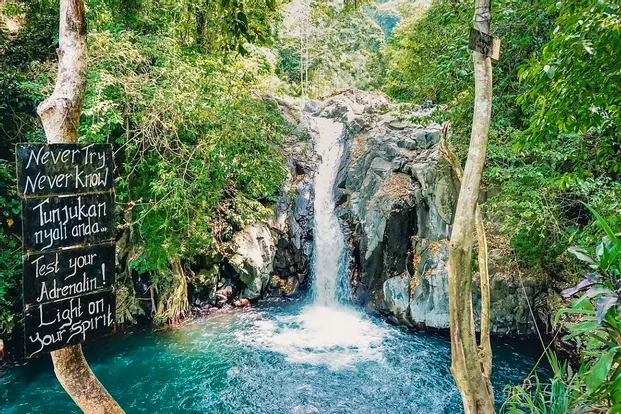 5. Experience the launch on a natural slide at the Aling-aling waterfall. Aling Aling Waterfall is a spectacular waterfall located in the village of Sambangan, mainly near Singaraja in the north of Bali. This place is the perfect place for true adventurers, because this waterfall is not too crowded by tourists when compared to other waterfalls in Bali.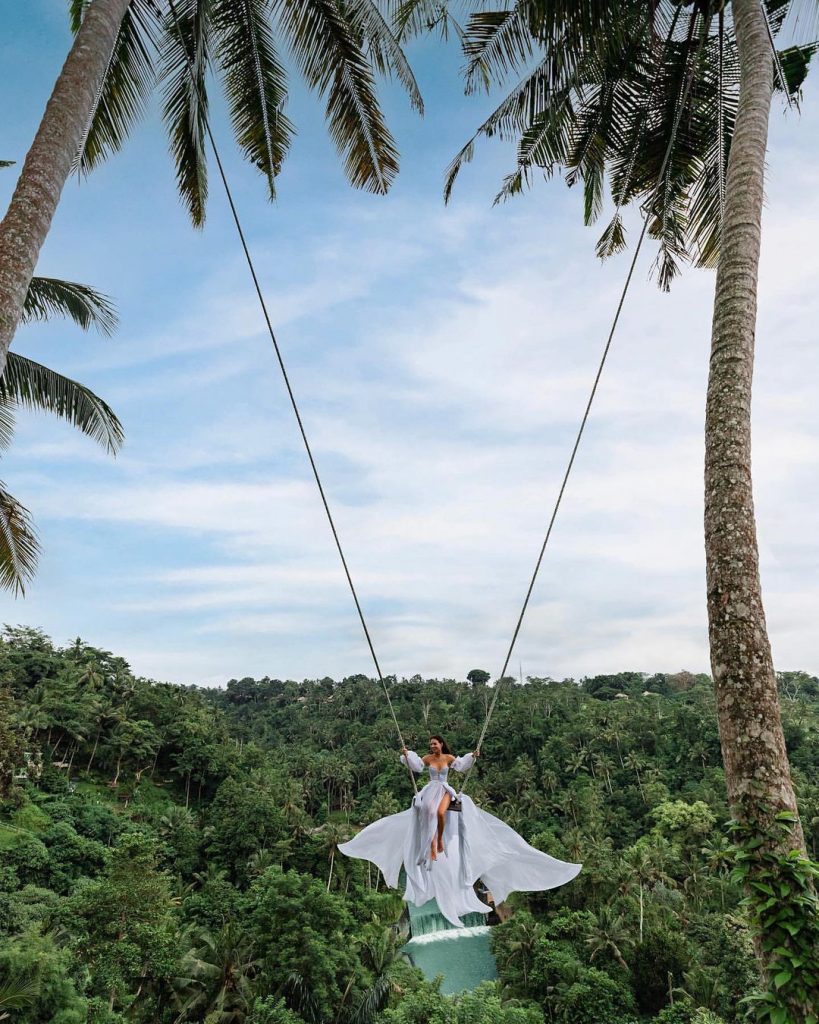 6. You can also swing while enjoying the panoramic view of the Ayung river when you visit Zen hideaway. In this place there is an extreme swing suspended between two coconut trees perched on a hill. This extreme swing is an accommodation that offers a different stay than usual in Ubud.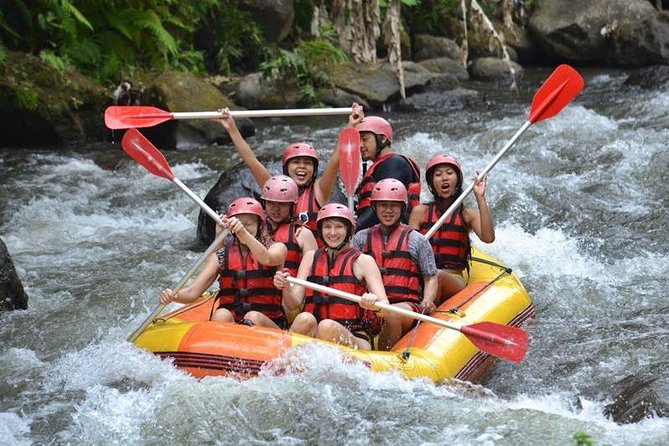 7. Conquer the swift currents of the river while enjoying the scenery in Bali. Precisely in Ubud you can conquer the swift river by doing whitewater rafting on the Ayung River.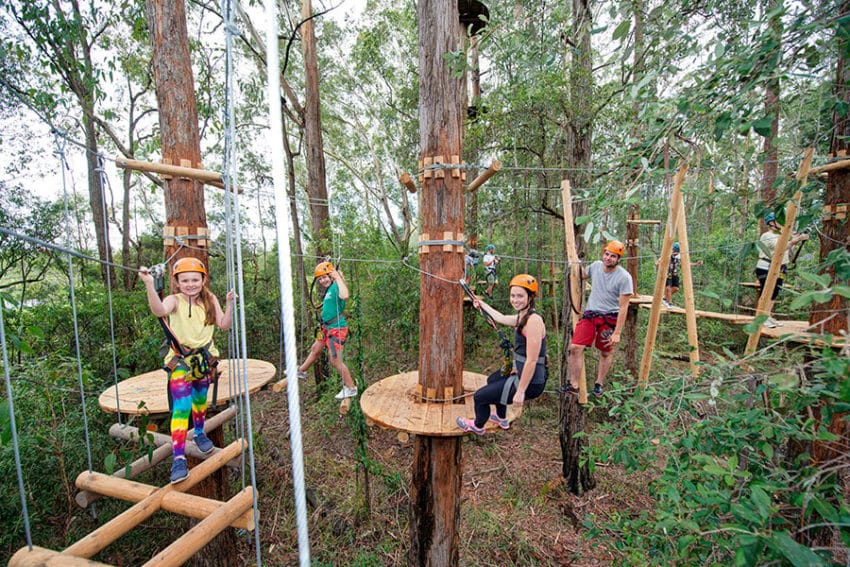 8. Bali treetop adventure Park is a place that you can make the most thrilling place in Bali. Especially for those of you who like challenging activities and being close to nature, then you can become Tarzan and hang among the trees.
9. Don't miss the ocean view when you are in Nusa Penida. Children can try the thrilling hike to the infinity pool with ocean views. This waterfall is not a vertical waterfall like most waterfalls in Bali. Because, peguyangan waterfall is a series of short water streams that rise in stages before finally descending down the ravine and into the sea.
What are the family activities in Bali?
Family Activities in Bali that you can do are very diverse. You can make plans by doing certain activities with your family that are fun and unforgettable. Bali is a romantic getaway, but who would have thought that there are so many tourist attractions in Bali that are very family friendly.
If you go to tourist attractions in Bali and invite your family. So it is guaranteed that all family members including children will feel happy. You can enter our recommended tourist attractions in Bali for a fun family vacation.
Waterbom Bali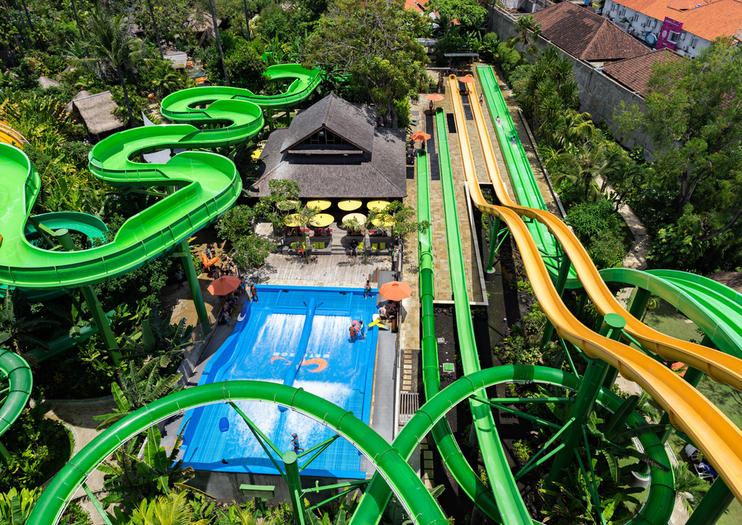 Waterbom Bali is water entertainment suitable for all ages. Waterboom is one of the tourist attractions in Bali and is very suitable for family vacations. The location of this famous Waterboom is in the center of Kuta. Known for its giant slides with various types of shapes, from simple slides for you to slide casually to the most extreme.
The Waterboom Bali tourist spot is a tourist spot that has a bar, has a water volleyball playing area, a surfing pool and other activities. It is not surprising that this tourist spot is visited by many young tourists from various countries.
This pool provides a gazebo that can be used to relax while other family members play in the water. You can take your children for a vacation to Bali by visiting Waterboom. It is guaranteed that the children will be happy to be invited to the water park, don't forget to bring swimming trunks or swimming goggles.
Splash Waterpark Experience
Water amusement parks are one of the tourist attractions in Bali that need to be visited while on vacation. If you are interested in bringing your family to a water theme park while on vacation in Bali, then the splash waterpark experience is an amusement park that can be chosen.
It is located in Canggu, because the splash waterpark has world-class waterslides. In addition to the giant water slide which is very thrilling, children can also enjoy rides such as a water cannon and a giant water bucket. Especially after the waterpark is close to the Finns Recreation Club.
What are the outdoor activities in Bali?
Outdoor activities can be more fun if done with the family. For that, you can invite your family to participate if you want to do outdoor activities.
Bali Zoo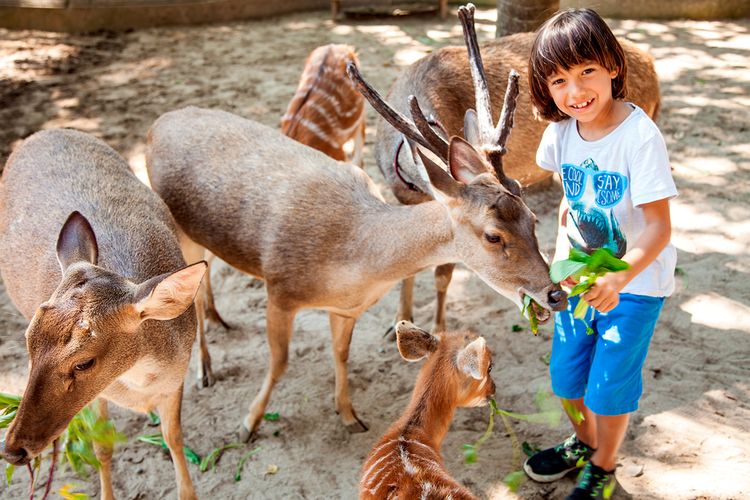 Bali zoo is a tourist place in Bali, in this place you can see families can find exotic flora and fauna of Indonesia. Indonesia's exotic flora and fauna is home to some of the most unique wildlife in Bali. Having a safe, friendly and educational environment, there are also a variety of exotic birds in Indonesia such as mammals and reptiles.
In this place children can also participate in feeding them up close. Feeding animals up close is a specialty of Bali Zoo. So that children can get really close to cute animals, and not just see animals from a distance.
Nusa Dua Water Sports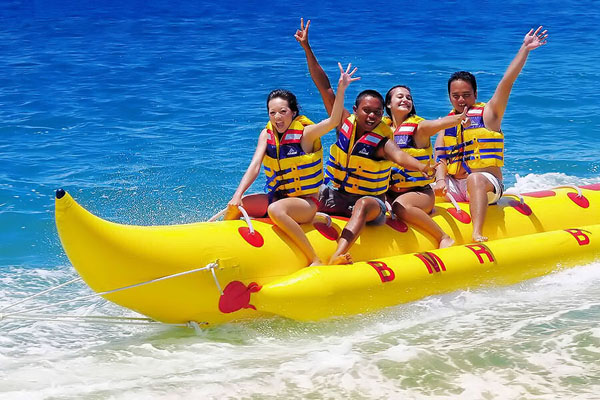 Nusa Dua water sport offers jet sky, banana boat, and flyboard games. If you bring a child aged 6 years and over, it will make him enjoy a fun experience. Water sport fun is a package that you can choose because it includes the experience of driving a jet sky and parasailing.
You can also have the best experience of riding a flyboard, which is one of the recommended rides. Most of the water sports available in Bali are the most famous tourist attractions, and can be ridden by children aged 6 to 12 years only.
Bali Bird Park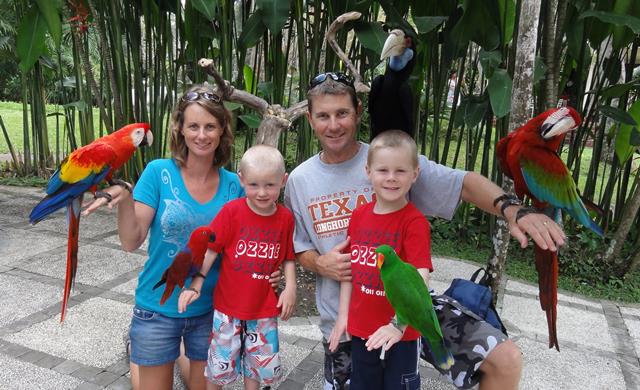 Bali has a collection of almost 1000 birds of various types. Because Bali has a zoo that specifically raises the diversity of bird fauna from around the world. This tourist spot in Bali is very fun to visit, especially during family vacations.
Lots of birds with colorful feathers, so you can take pictures with some of them. Of course there are 250 species of bird species originating from Indonesia, South Africa and Latin America. These birds are plant eaters, and there are even carnivores. There is also a Bali starling which has 90% clean white feathers all over its body.
Snorkeling at the Blue Lagoon
As one of the best tourist attractions in Bali for snorkeling, making Blue Lagoon has a hidden place in the PadangBai area. The location of this place is a bit far from the Bali area itself, you could say that tourists rarely come to this area.
However, we highly recommend you and your family to go to this beach because it is really fun. The water available is quite clear with rich underwater biota, so you can see a lot of things while snorkeling in this place.
What are Bali Adventure Activities for Couples?
Bali adventure Activities for Couples is the ideal vacation spot when you are looking for a relaxing and thrilling atmosphere. You can do this adrenaline-pumping activity with your partner, make sure you and your partner enjoy the other side of Bali that is more thrilling.
Rides Escape Room
Wahana Escape Room is nothing new in Indonesia, because you can enjoy an adventure that feels so real. You will be faced with various challenges supported by high-tech sound effects and visual effects.
While in it, you really have to be able to find a booth that can slide into a secret room. You can also find narrow hallways with bones, complete with falling rooms in prisons with steel and prison lights.
It will be much more exciting if you play with family or friends, as well as your partner. Because it will test the cohesiveness and cooperation between teams.
Mahana Point Cliff Jump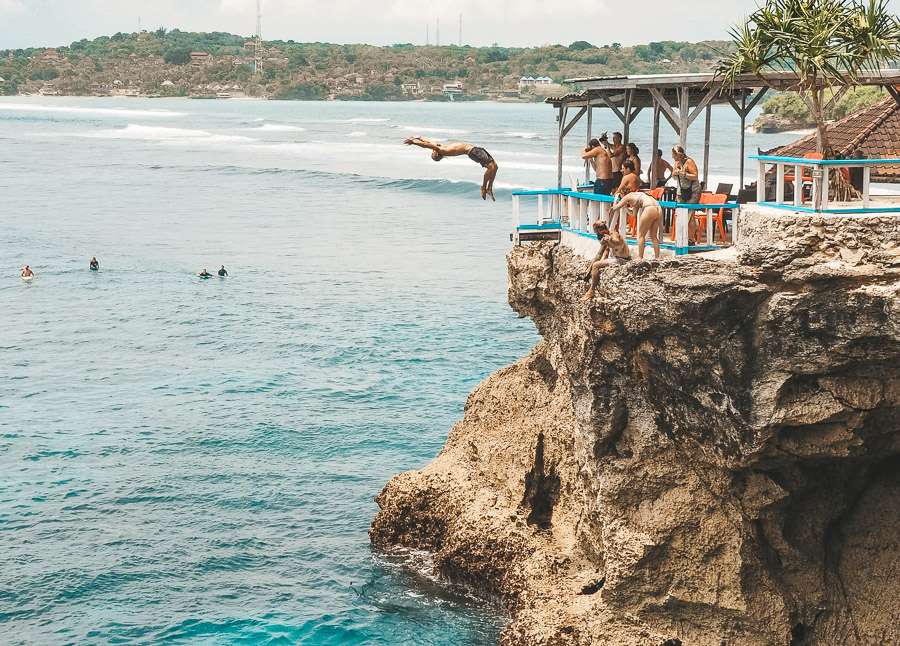 Mahana Point Cliff Jump is an activity that you can add to your adventure list with your partner. This place is a small bar on top of a cliff, mainly on the island of Nusa Ceningan. They will give their customers a chance to try the challenge.
This challenge will get you excited to jump in, at least get a drink or two at the bar to be more adventurous.
What are the extreme adventure sports in Bali?
You can try extreme adventure sports in Bali anytime and anywhere while in Bali. You can also invite your partner or family if the family is happy with adrenaline-pumping sports activities.
House of Trap Bali
House of Trap Bali has activities that you can do in Bali and are the most exciting adventures. You can test physical toughness as well as intelligence with your partner at the same time. Physical game play is a game in which the player is locked in a room and must use the available elements to solve puzzles.
In this best place you can not relax, because the time required to complete the mission is only 45 minutes. The location of this adventure spot is in the Jimbaran area. Has a number of game themes, each of which has a different story with different levels of difficulty.
Canyoning in North Bali
If you are looking for an adrenaline rush by exercising then you can move all the muscles in this place. Canyoning in Bali is an option that must be considered, because it is an adventure activity as well as the most exhausting sport.
You can choose from different types of options that you can explore, while doing challenging activities with different locations and levels of difficulty. There is one of the most popular and friendly for beginners such as canyoning in Kerenkali. If you feel very skilled and experienced, then you can try Aling Gorges in Sambangan.
What are the best family activities in Bali?
You can do the best family activities in Bali with your family, by visiting some of the best places in Bali. These activities can be done during the holidays or in free time that has been planned.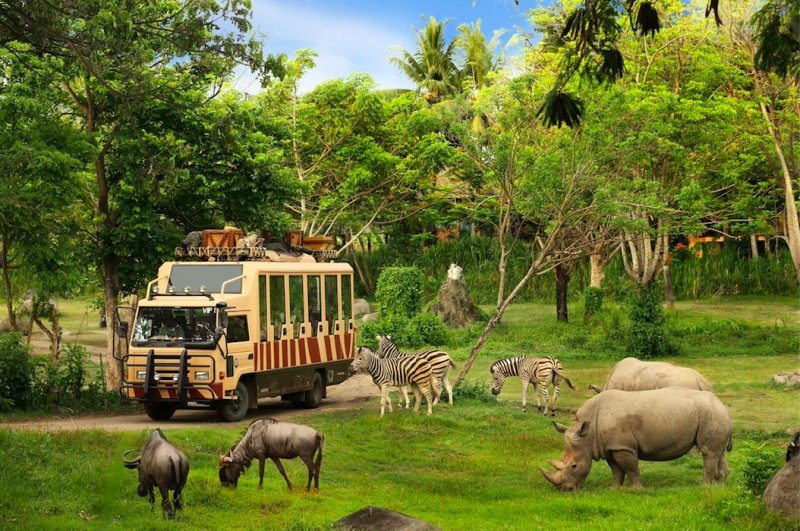 Bali Safari Park
The Indonesian safari park in Cisarua can indeed be known by many people. However, did you know that there is a safari park that has branches in Bali. Bali has a zoo covering an area of ​​40 hectares and provides the experience of meeting animals as if they were living in their natural habitat.
The landscape of Bali Safari Park is specifically designed to resemble a natural habitat. So that many animals feel happy and visitors can also meet more closely with them. As for all family members, they are definitely happier when they see zebras or carnivorous animals.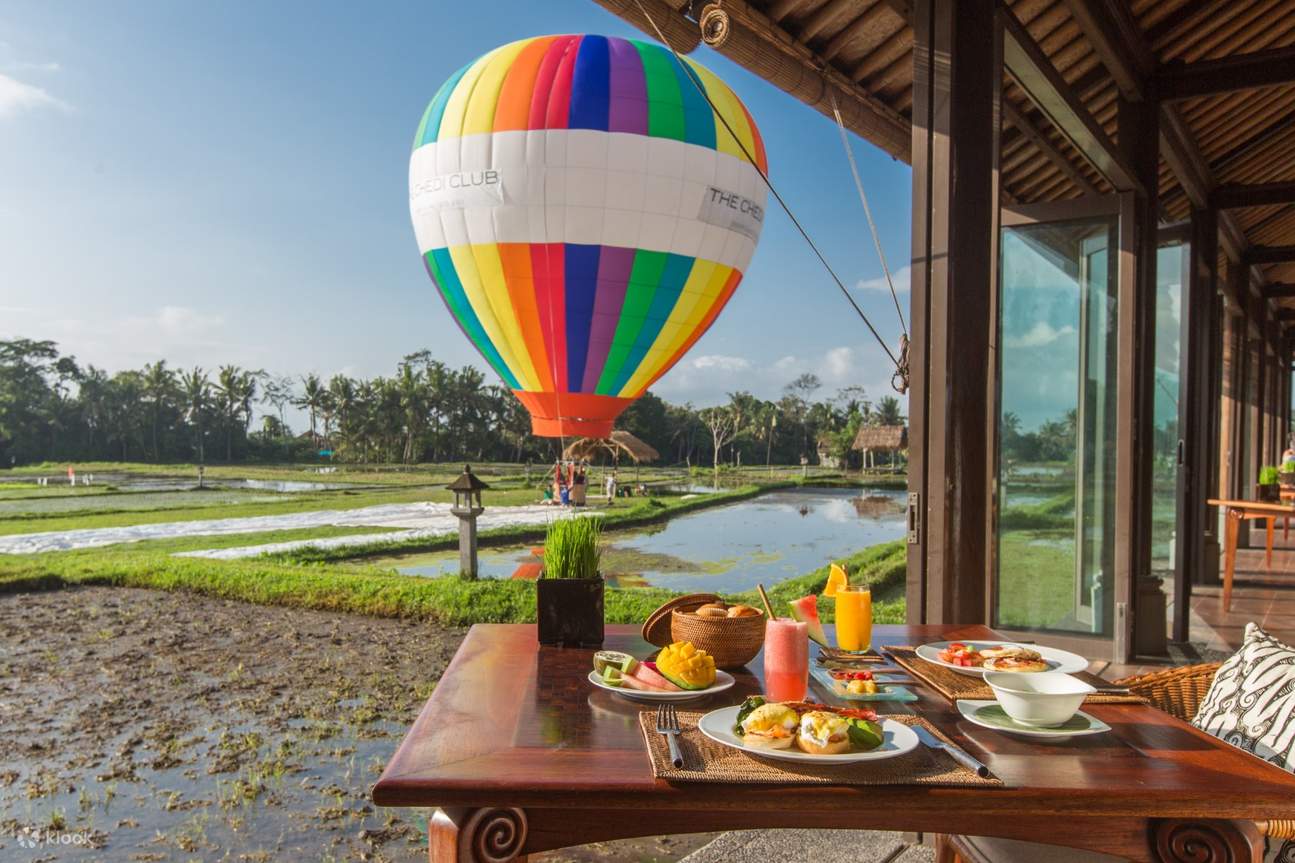 Hot Balloon Air Experience
Children are also happier and happier, if you bring them to the Hot Balloon Air Experience. The place is a hot air balloon that makes for the most unique experience in Ubud without having to stay at the hotel. You can also stay at the elephant land of Ubud if you want to feel the experience more optimally and more economically.