Things to do in Kuta can be done by anyone who vacations to this place. Because enjoying all kinds of activities in Bali is a pleasure in itself. There are so many exciting holiday activities that can be done in Kuta, so Indonesian tourists are also interested in having a vacation in Kuta.
What are 10 amazing things to do in Kuta for Vacation in Bali?
Kuta is one of the sub-districts with the same name, therefore each holiday activity location in Kuta is close to each other. The Kuta village is located in the sub-district area of ​​the same name. As a visitor, you can enjoy 10 amazing things to do in Kuta for vacation in Bali.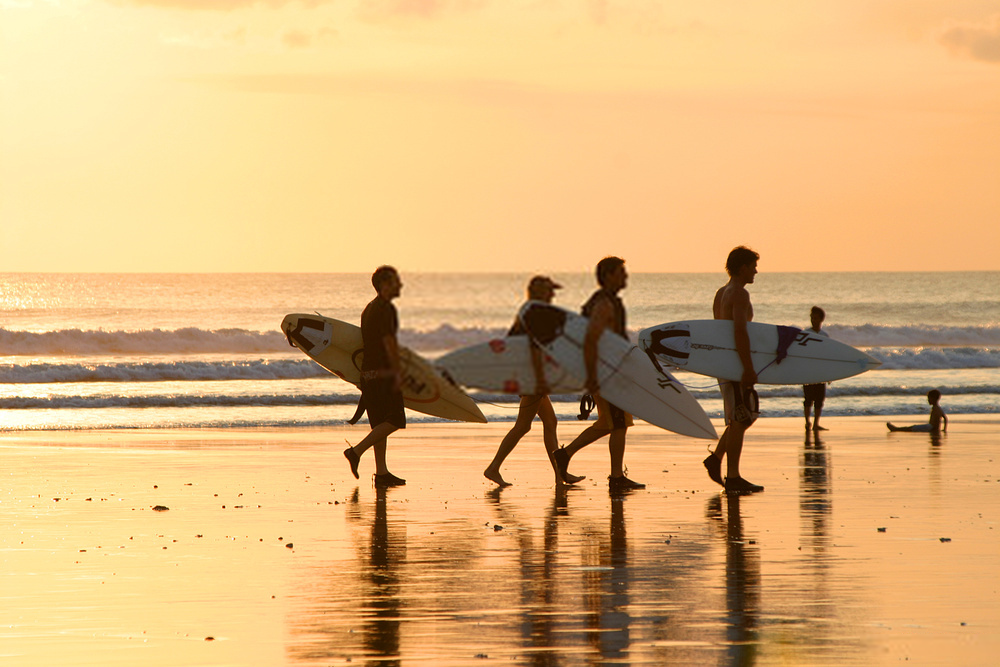 Seeing the beauty of the sunset on Kuta beach which is the main attraction when in Bali. You and your family can enjoy Sunset comfortably while in this place.
Visiting the Waterbom Bali, is one of the activities you can do while in Kuta. You can bring along a large family and several children when visiting here.
The next activity you can do is shopping. You can go to the Beachwalk shopping center in Kuta which is the most visited shopping place.
Visit the ground zero monument which can be visited at 07.00 pm. When you want to go to this place, try to ride a motorbike or other vehicle, because there is no car park area.
5GX Bali Reverse Bungy is the right vehicle for those of you who like adrenaline-pumping rides. You can sit in the seat of the ride and the chair will throw you up 50 m at a speed of approximately 200 km per hour. This ride is considered safe because it uses modern equipment.
The next activity you can do is try culinary tourism in Kuta. Culinary tourism such as Nasi Campur Wardani stall is a place to eat that is very easy to visit. There are a variety of western and Asian cuisines and of course this place is a halal place to eat.
You can also play kites on Kuta Beach, because looking for a kite is very easy. You can buy it at the Kuta art market or a shop on the side of the highway, the choice is also very much. You can choose kites with a choice of sailing boats or rainbow colored sails as well as fish-shaped services. Kites flying at Kuta Beach is a fun activity to do with children without big costs.
You can also enjoy clubbing at LXXY Bali Jalan Legian, enjoy some nightlife which is one of the best nightclubs in Kuta.
There is also a Potato Head Beach Club which is a fun vacation spot with children. You can bring children to have fun in this place without having to worry about expensive ticket prices, because the ticket prices are quite affordable.
You can also run in the morning on the Kuta beach so that your stamina is always maintained, this activity will make you exercise well. Especially in the morning, activities at Kuta Beach are not too crowded so you can take advantage of them.
What types of food are sold at street food in Kuta?
In addition to tourist destinations, Kuta is an area that provides some of the most delicious street food. You can enjoy street snacks in the Kuta area without fear of worry. Of course, some of the street food available here will make you addicted.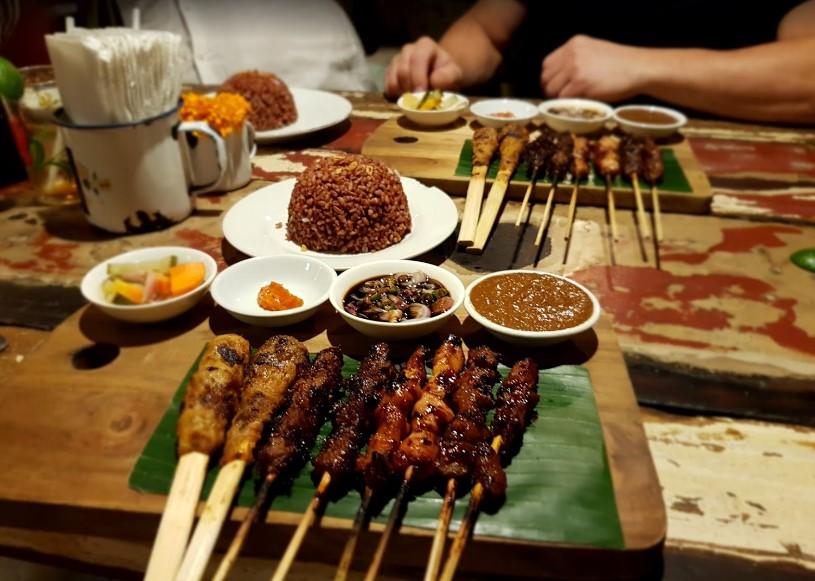 Babi Guling Bu Dayu Kencani (Balinese Suckling Pig) is one of the street foods that you can enjoy while in Kuta. This food is a typical Balinese street food, can be found along the way when you are in Kuta.
Also enjoy Gourmet Sate House which is one of the most delicious local food indonesia. This place is open in Legian area mainly when you are in Bali.
Also visit the roponggi shop which is a typical Indonesian street food that you can find in Kerobokan.
The next street food that you can find in Kuta is Fat Tony's. This street food is found in Jalan Sriwijaya, Legian, Kuta
What are the Best shopping and stores in Kuta?
Besides enjoying the food found in Kuta, it's not right if you don't try shopping. Moreover, Kuta provides some of the best items and selected items that can be used as alternatives. You can enjoy shopping with friends while in this place.
Beach Walk Shopping Center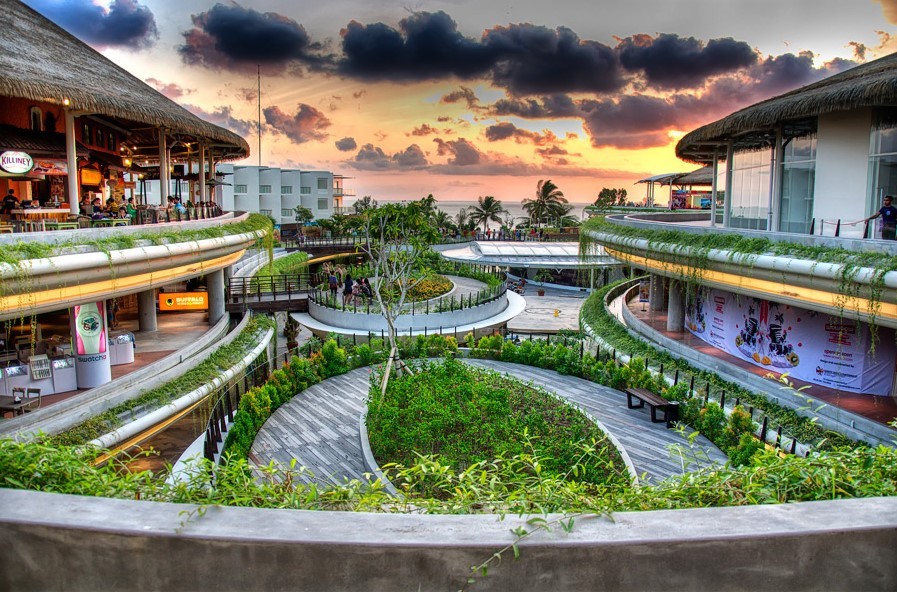 Please note, that the Kuta tourist area has lots of shopping options. Lots of shopping options and many shops on the roadside selling Balinese handicrafts. One of them is the beachwalk shopping center, which is the most visited shopping place for tourists who are on vacation.
This shopping place has a strategic location, equipped with the unique architecture of the quota beach walk shopping center. The location is right across from Kuta Beach, offering the concept of green trees with an open area. So you can see a lot of international brand products such as Zara and Victoria secret.
Discovery Shopping Mall Kuta
The best shopping area that you can do next is to visit the discovery shopping mall which is known as Centro Mall Kuta. This location is close to Waterboom which is on the beach. Inside this mall you can find clothing stores and food outlets, as well as beverage outlets that you can take advantage of.
The opening hours of this one mall are around 10:00 am to 10 pm. You can visit this place by following the Google map, or while visiting the waterboom.
Kuta Square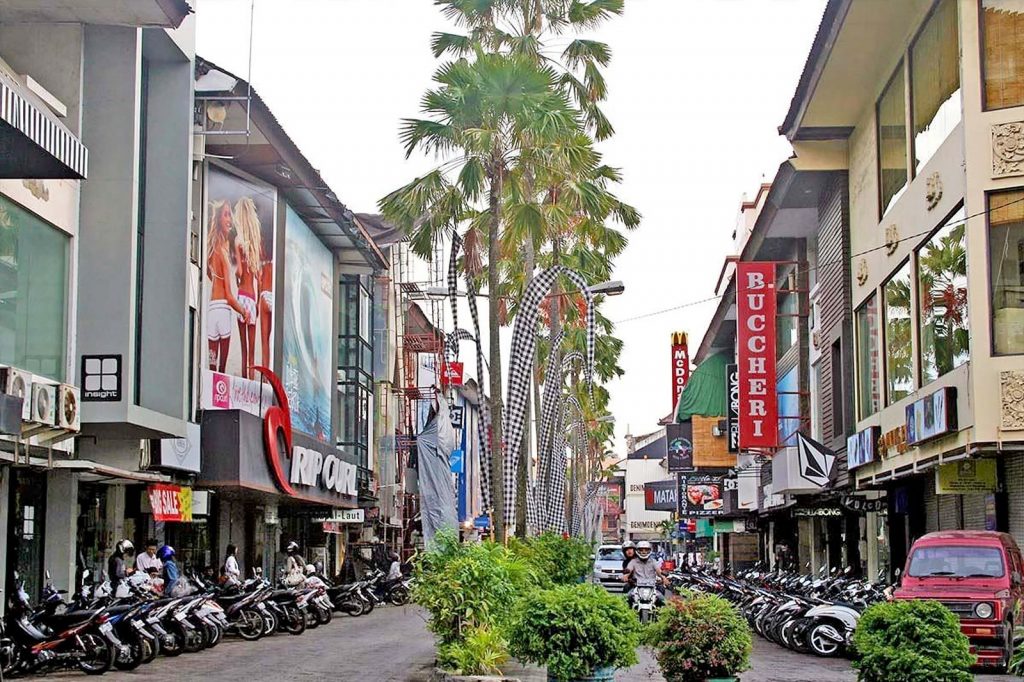 Kuta square is a shopping area located on the side of a two-way street, on each side there are shops selling various products. You can see that there are lots of fashion shops and food outlets in this place.
The fashion brands in the Kuta square area are mostly dominated by certain brands such as Adidas and Gucci. You can also enjoy some of the best brands on the East side of the road. On the east side there is a shopping mall called Matahari Kuta Square.
Shopping at Poppies Street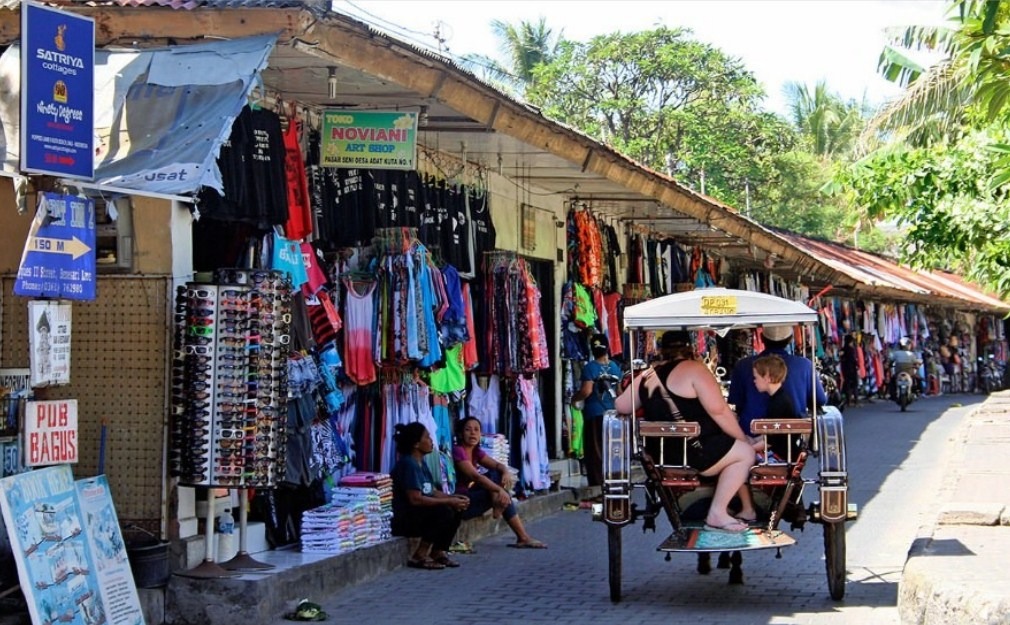 There are two popies roads, because both popies roads will connect Legian Street and Kuta Beach Street. The popies street area is closer and is known to tourists as a location to find cheap accommodation in Kuta. This shop where shopping provides many types of products to choose from.
Joger Kuta Bali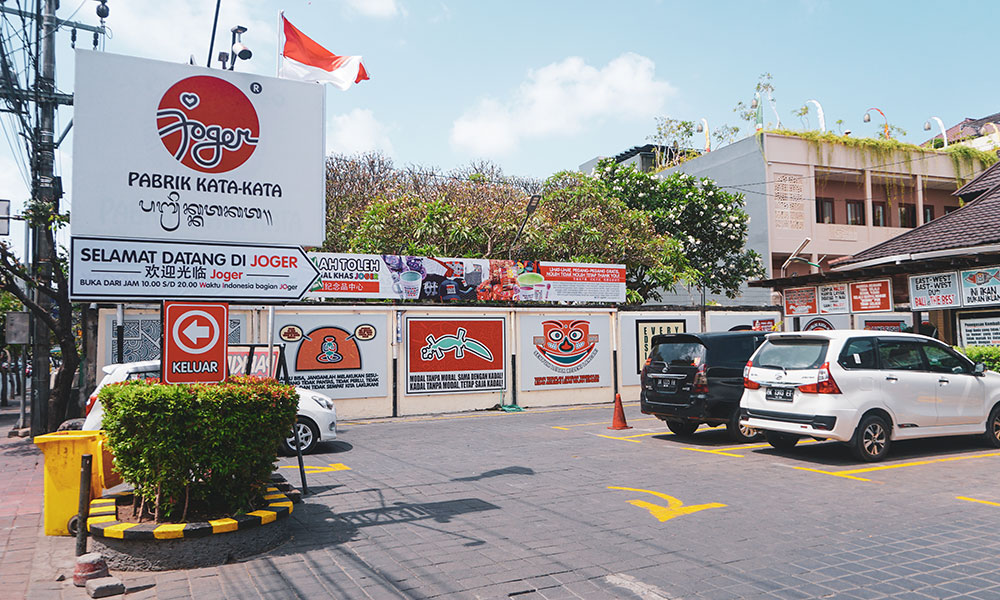 Joger Kuta Bali is the best place to buy souvenirs with family or friends while on vacation to Bali. This place is always the best place to visit, because many Indonesian tourists know the souvenir center in the Sukawati art market.
If you want to stay in Kuta, then you don't have to go to the Sukawati art market to buy souvenirs there. Because, Kuta provides many locations to buy Balinese souvenirs such as some merchandise and several other items.
What are the Best places to visit in Kuta?
Kuta is one of the areas in Bali, of course it has the best place for tourists. Want to know what are the best tourist attractions in Kuta? Here you can see the review
Ground Zero Monument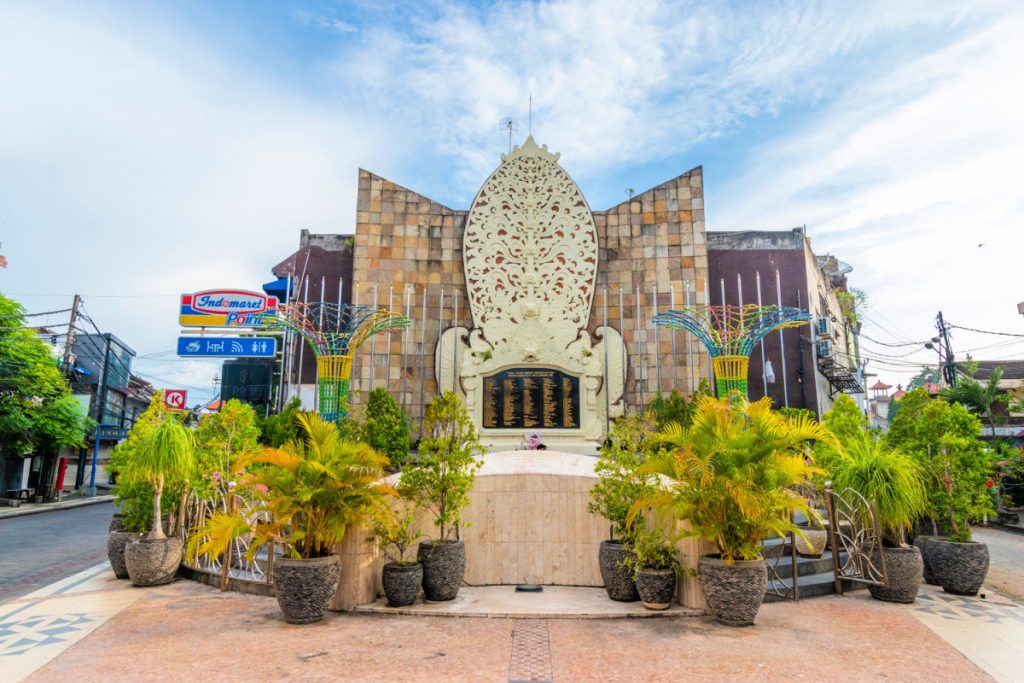 Ground zero monument is the best tourist destination when you are on vacation and take a minute to visit this place. The location of this monument is on the edge of Jalan Legian, you can choose the best transportation to visit the monument by motorbike or taxi.
At the ground zero monument, there is no car parking area. So, you can choose the best time to visit around 7 pm because the weather is not hot. The lighting will make your photos look better when visiting here.
Waterboom Bali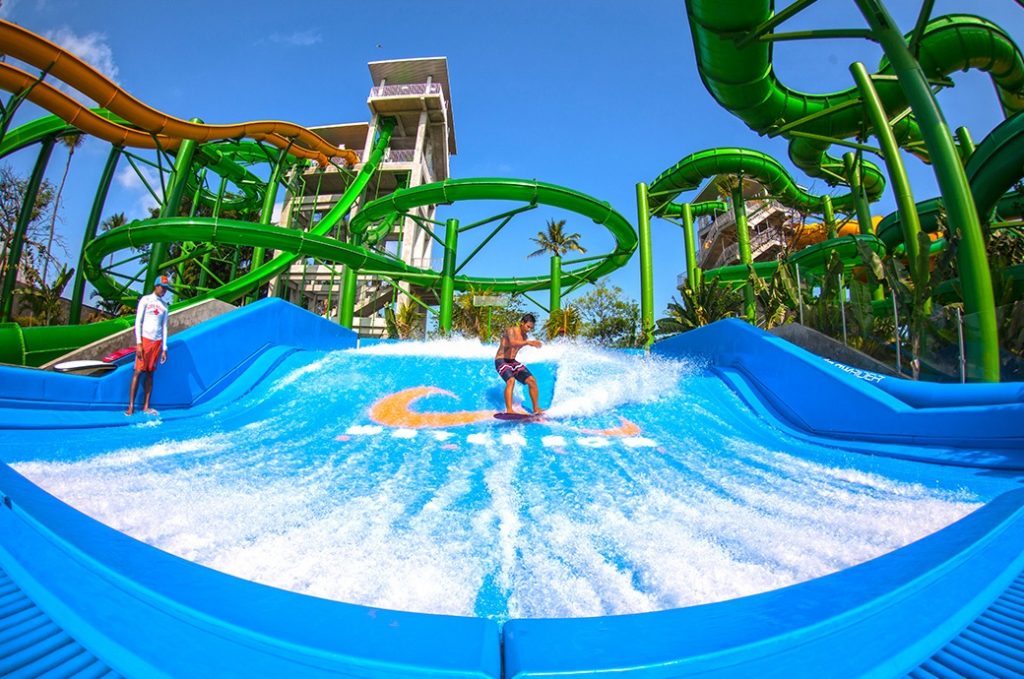 Waterboom Bali is a choice of tourist destinations that you can choose while on vacation with your family. When you visit Waterboom, you will try some of the exciting water rides found at Waterboom. Of course there are rides that can trigger adrenaline and rides for children.
In order for your vacation to be much more effective while at Waterboom Bali, it's better to come from the morning. Coming from the morning can make you spend the whole day at the water park in Bali. You can see a map of the location of Waterboom via Google map, so you won't get lost.
Potato Head Beach Club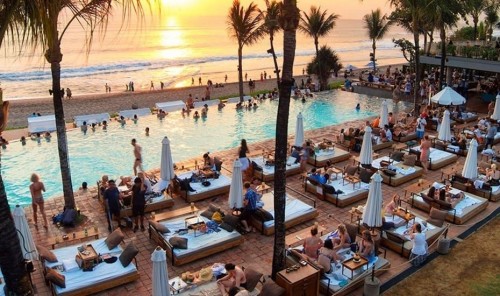 Potato Head Beach Club is a fun vacation spot with children. This place suitable Have fun and relax where infinity pools, day beds and best view Sunset Beach Club & Bar in Kuta.
Seeing the Beauty of Sunset on Kuta Beach
Seeing the beauty of the sunset on Kuta beach is the main attraction while on vacation to Bali. By seeing the beauty of Sunset, we can sit back on the beach while waiting for the view. To make sitting more comfortable and safe, we can rent a pair of sundek at the best price.
By using a sundeck, you can lie down without being exposed to the beach sand and relax watching the sunset. Usually sundek tenants sell a wide selection of cold drinks such as soda and mineral water. You can buy it if you want to enjoy a cold drink while waiting for the Sunset view, this is a holiday activity that is most favored by many tourists.
If you want to visit this place then half past five to half seven in the afternoon is the best time. Please note, that there is no entrance fee to enter the Kuta Beach area. So you can freely enter without worrying to whom to pay.
What are the Best family resorts in Kuta Bali?
When on vacation to Bali, of course you need the best and most comfortable accommodation. One of the best places to stay is a family inn. When in Kuta, you can choose the best family Resort in Kuta. Of course the resorts here are superior because they provide qualified facilities.
The Anvaya Beach Resort Bali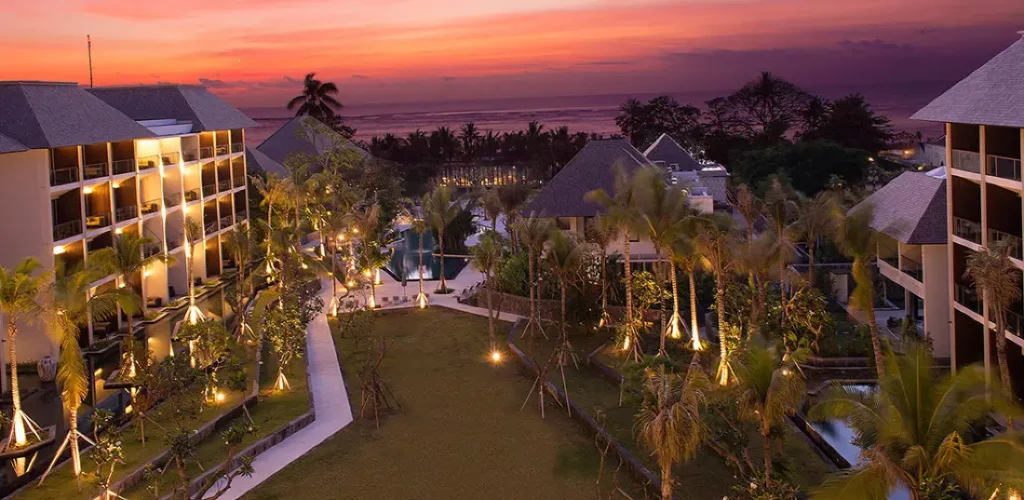 The Anvaya Beach Resort Bali is located on the beachfront in Kuta area. This place is a resort that was purposely built to cater to the needs of the whole family. You can meet staff who are known to be friendly with such a warm atmosphere, which guarantees to make your family vacation even more memorable.
Your child will be pampered with a special children's swimming pool which is very fun. They will certainly prefer to play in the swimming pool which is equipped with a Kids water fun zone area and a 56 m long slide.
As for the fun that is offered directly by Bali, the resort dynasty is not only that. Because, there are other facilities that are no less exciting, such as the enchanted garden kids. When the kids are having fun, adults can spend time at one of the 5 bars here.
Bali Mandira Beach Resort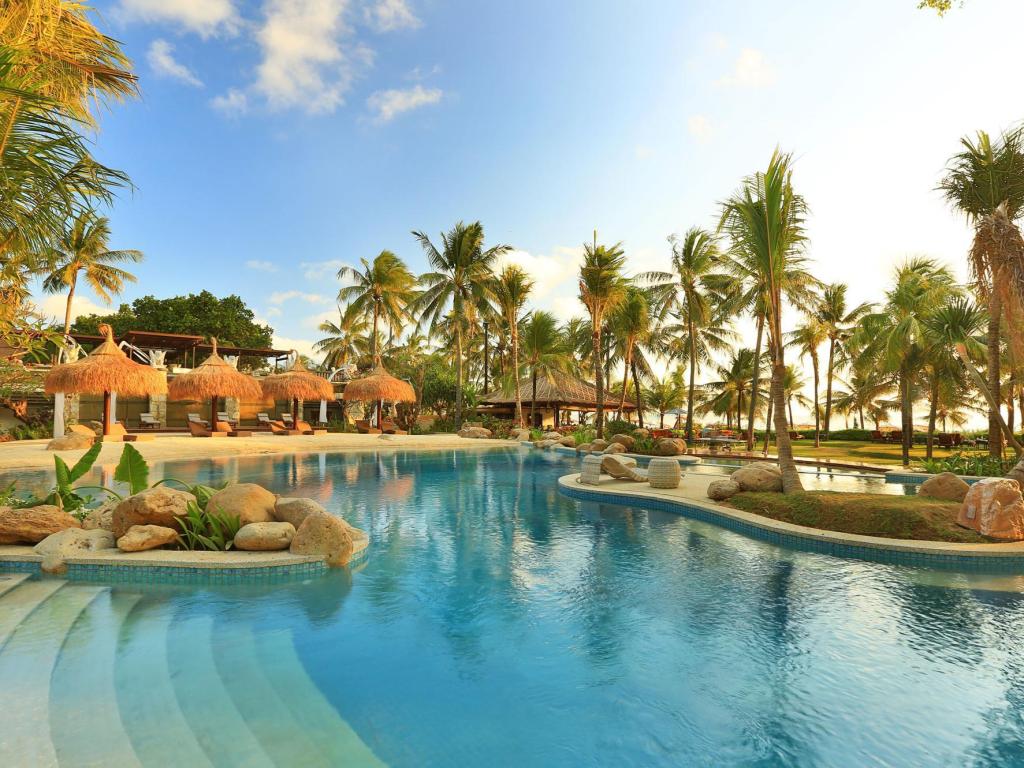 Bali Mandira Beach Resort is a place where you can enjoy abundant facilities including a spectacular pool. There is an infinity pool overlooking the sea and a pool with a large slide, which can be used not only for children.
What are the nightclubs in Kuta?
Kuta is an area that has nightclubs, so you can enjoy this place with friends. Nightclub is the best place to unwind with friends after work or while on vacation in Bali.
Clubbing at LXXY Bali Jalan Legian
If you like clubbing and night entertainment, then visiting LXXY Bali on Jalan Legian Kuta is something you must do. LXXY Bali is one of the best nightclubs in Kuta. The entrance fee depends on the day you visit.
LXXY Bali offers three different genres, the most popular of which is sky dome. Sky dome is a place that offers a nightclub with an open concept and its location is on the top floor. You can take a map of the location when you want to visit this place.